Louise and Michael Beldon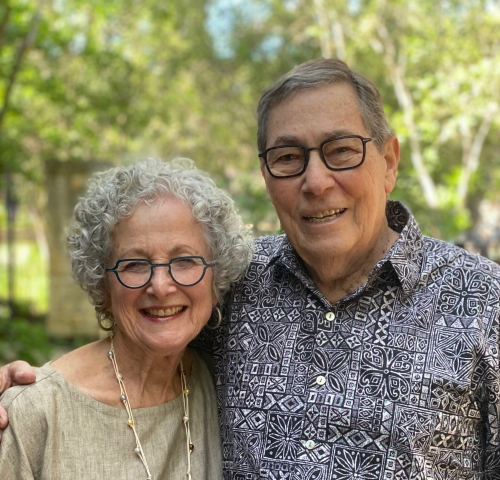 Louise and Mike Beldon have been pillars of both the business and Jewish communities in San Antonio for over six decades. In Judaism, "chai" is the Hebrew word for life. Louise and Mike bring so much life to their family and community. To be loved by Louise and Mike is a true blessing. As their family, we feel incredibly lucky to have had a front row seat to their amazing life story.
There is a Greek Proverb that says "A society grows great when old men plant trees in whose shade they shall never sit." Louise and Mike have spent their lives metaphorically planting trees and enriching the lives of those around them. It is with great appreciation that their family is able to donate this tree at Hemisfair in their honor. May the roots of this tree be as firm and far reaching as Louise and Mike's impact on the lives of their family, friends, and community.
Donated by
Dylan Beldon, Anya Beldon, Mason Beldon, Maria & Jonathan Beldon, Jennifer & James Rosenblatt, Jack Rosenblatt, Molly Rosenblatt, Brittany & Blake Rosenthal, Teddy Preblich, Samantha & Matthew Preblich, Annie Kustoff, Emily & Brady Kahn, Emmett Kustoff, Tamar & Jeremy Kustoff, Hilary Kustoff, Alli & Danny Kustoff, Marshall Beldon, Mackenzie Beldon, Susan & Bradford Beldon